The Open Lighting Project has moved!
We've launched our new site at
www.openlighting.org
. This wiki will remain and be updated with more technical information.
Open Lighting Architecture
From wiki.openlighting.org

Link: http://www.openlighting.org/ola/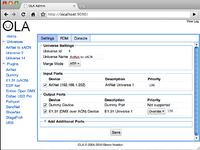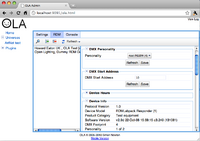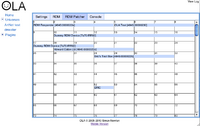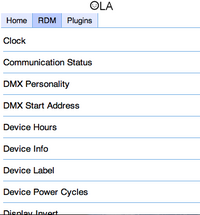 The Open Lighting Architecture (OLA) is part of the Open Lighting Project and provides applications with a mechanism to send and receive DMX512 & RDM commands using hardware devices and DMX over IP protocols. This enables software lighting controllers to communicate with hardware either via Ethernet or traditional DMX512 networks.
OLA can also convert DMX512 data sent using DMX over IP protocols from one format to another, allowing devices from different manufacturers to interact with one another. For example a Strand Lighting Console using ShowNet can send DMX512 to an Enttec EtherGate. When combined with a physical DMX interface such as the DMX USB Pro, OLA can send and receive data from wired DMX512 networks.
Supported Protocols
Supported Devices
Getting Started
Start here if you've never used OLA before and read these in order.
Tutorials
Advanced Topics
Developer Documentation
The developer documentation is in the process of being re-written as doxygen comments in the src tarball. The latest generated copy of the docs is hosted at https://docs.openlighting.org/doc/latest/ versions for specific releases are hosted at https://docs.openlighting.org/doc/.
Old Tutorials
These refer to the previous release but parts of them are still relevant.