The Open Lighting Project has moved!
We've launched our new site at
www.openlighting.org
. This wiki will remain and be updated with more technical information.
DMXter4 RDM
From wiki.openlighting.org
Link:http://www.goddarddesign.com/dmxter4a.html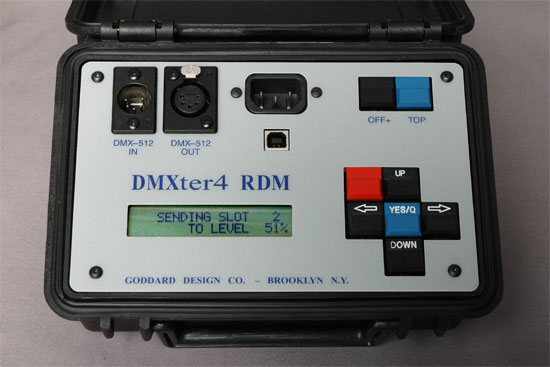 The New Standard DMX Tester

The DMXter4 RDM(tm) is Goddard Design Co.'s successor to its Lil'DMXter(tm) tester. If you use DMX512, and you think you might someday use RDM, you need the DMXter4 RDM. The unit sends, receives and analyzes DMX512 signals.

The DMXter4 RDM shows you slot levels - lets you use percent, decimal or hexadecimal format - measures transmit and receive parameters - tests DMX cables - provides Flicker Finder(tm), our proprietary approach to verifying system stability - gives you Multichannel Mode for testing multichannel devices like moving lights - contains the software to sync up to an oscilloscope. With the ShowPlayer(tm) option, use the DMXter4 RDM as a backup console, with automatic switchover on data failure.

The software includes the ability to intercept and modify particular slots from a DMX data stream sent by a console, allowing the user to change just those channels, while passing on the live console data. The DMXter4 RDM adds test routines for handling RDM. A special software package for RDM developers, Advanced RDM, is available.
Software updates easily accomplished using the front panel USB connector.
Free software updates for 1 year after purchase.