The Open Lighting Project has moved!
We've launched our new site at
www.openlighting.org
. This wiki will remain and be updated with more technical information.
RUNIT WTX
From wiki.openlighting.org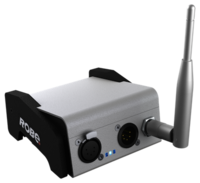 Link: http://www.robe.cz/products/article/runit-wtx/
Made by: ROBE lighting







Wireless DMX + RDM enhanced version of the Robe Universal Interface magnifies es this powerful multi-functional toolbox. The unit communicates with a PC or Laptop via USB and besides the standard Robe Universal Interface features it provides wireless capabilities for both DMX controlling and bi-directional RDM setup, management and monitoring. Fixture software updates can now be carried out via either wired or wireless link. The wireless communication is based on robust CRMX technology which includes advanced features such are automated cognitive coexistence, DMX fidelity, low latency, strong encryption and more.