The Open Lighting Project has moved!
We've launched our new site at
www.openlighting.org
. This wiki will remain and be updated with more technical information.
UltraDMX Pro
From wiki.openlighting.org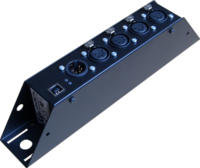 Link: http://dmxking.com/usbdmx/ultradmxpro
Made by: DMXKing







Professional USB DMX with 1500V optical isolation and built in DMX512 splitter with "DMX Decelerator" functionality options. No need to carry around extra boxes and power supplies as the ultraDMX Pro does it all whilst being compatible with software that supports Enttec USB Pro. You choose 3-pin or 5-pin XLR so no inline adapters needed. Designed and manufactured in New Zealand to the highest standards this interface is an ideal step up from our ultraDMX Micro product. Rack Mount option available.
MODE 1 (Default) Compatibility mode: 1 Universe IN or 1 Universe OUT. Device behaves just like Enttec USB Pro so works with large existing software base. Provides 4 isolated DMX outputs all of the same universe.
MODE 2 (Enhanced) Enhanced mode: 1 Universe IN and 2 Universes OUT (total 3 universes). Equivalent to having 3x USB DMX units rolled into 1 enclosure and USB connection. Simultaneous 1 universe IN and 2 universes OUT with dual isolated DMX outputs on each.
MODE 3 (Splitter) Standalone DMX512 Splitter: Computer not required (USB socket just for power). Provide 5Vdc power and the DMX512 input is re-sent on all 4 output connectors. Better still you can re-time the DMX512 stream making this unit a "DMX Decelerator" as well.
Main Features
Microprocessor controls DMX512 timing - no flicker problems like the "Open" and clones.
Supported operating systems: Windows, MAC OS, Linux
DMX512 Transmitter or Receiver. Simultaneous 2 universe transmit and 1 universe receive in enhanced mode.
Fully automatic fallback mode with 1 universe sent on 4 XLR outputs.
DMX transmit timing adjustment settings to "fix" issues with non-compliant DMX lighting gear.
DMX receive rate throttling option to ensure receiving software isn't overloaded with too many frames per seconds.
Splitter mode with "DMX Decelerator" configurable functionality.
3-pin or 5-pin XLR Male and Female connectors
1500V optical isolation between computer and every XLR connector - all ports individually isolated
Internal line termination on DMX Input connector
Tough metal housing with multiple mounting options including rack mount option
No external power supply required
ANSI E1.11-2008 compliant (DMX512-A)
E1.11 Higher Protection Level "DMX512-A Protected" device - self resetting after fault
Internal triple buffered DMX512 streams resulting in zero lost frames
Fully compatible with software suitable for ENTTEC USB Pro
Configuration utility (Windows .NET 3.5 - OS X version available Q3 2013)