The Open Lighting Project has moved!
We've launched our new site at
www.openlighting.org
. This wiki will remain and be updated with more technical information.
DMXking USB DMX512-A
From wiki.openlighting.org
Link: http://dmxking.com/index.php?page=shop.product_details&flypage=flypage.tpl&product_id=1&category_id=1&option=com_virtuemart&Itemid=2
Made by: DMXKing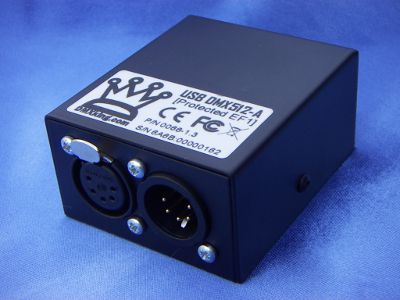 Discontinued and replaced by the ultraDMX range:
The DMXKing USB DMX512-A interface firmware is compatible with the successful Enttec DMX USB Pro widget open protocol. Use your favourite lighting control software, both free and commercial, for a huge range of applications.
Featuring a "DMX512-A Protected" port as defined in the latest ANSI E1.11-2008 standard it will survive unusal voltages presented on the DMX line and still maintain full functionality once the fault is removed. Designed from the ground up this unit is not simply an Enttec clone, it's way better. Support for DMX512 output, DMX512 input and RDM is included.
Related Products: