The Open Lighting Project has moved!
We've launched our new site at
www.openlighting.org
. This wiki will remain and be updated with more technical information.
RDM USB Pro
From wiki.openlighting.org
Link: http://www.enttec.com/index.php?main_menu=Products&prod=70530&show=description&name=rdmusbpro
Made by: Enttec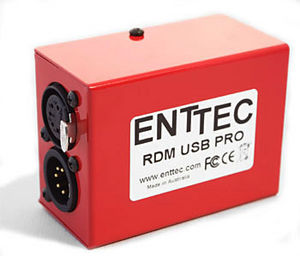 Born from the Open DMX USB interface the RDM PRO version is the ultimate USB DMX adapter for all computer based lighting needs including RDM capability. The pro is the fastest interface available with frame rates of up to 850 frames per second and is supported by all common operating systems.
Note it is possible to violate ANSI E1.11 DMX512-A timing requirements by sending a small number of channels at maximum rate (variable with number of channels).
Related Products: