The Open Lighting Project has moved!
We've launched our new site at
www.openlighting.org
. This wiki will remain and be updated with more technical information.
DMX-TRI
From wiki.openlighting.org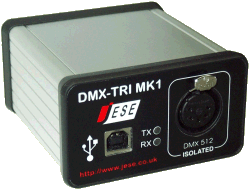 Link: http://www.jese.co.uk/product/001/
Made by: JESE




The TRI will generate DMX Universe frames asynchronously at rates configurable between 1 to 40 frames a second. Options are available to update the entire frame at once, a single slot within the frame or to insert a single frame into the transmission sequence.
The DMX-TRI is available with either a popular 3 Pin XLR or the standard 5 Pin DMX512 Connector.
This unit is upgradable to the RDM-TRI
Related Products: