The Open Lighting Project has moved!
We've launched our new site at
www.openlighting.org
. This wiki will remain and be updated with more technical information.
RDM-TRI
From wiki.openlighting.org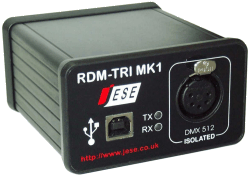 Link: http://www.jese.co.uk/product/002/
Made by: JESE





The Transmit Receive Interface (TRI) provides a simplified interface to the facilities available in the RDM (ANSI E1.20-2006) protocol.
The RDM-TRI is DMX512 and RDM protocol aware, with an onboard discovery feature for optimal performance. The TRI protocol engine generates RDM request frames on command and parses responses, handling all response timing and protocol errors. As well as the command set utilised by OLA and other popular applications, the TRI supports a second command set, featuring full exception handling capabilities to meet the requirements of RDM.
The RDM-TRI is available with the standard 5-pin DMX connector.
Related Products: