The Open Lighting Project has moved!
We've launched our new site at
www.openlighting.org
. This wiki will remain and be updated with more technical information.
Milford Instruments 1-463
From wiki.openlighting.org
Link: http://www.milinst.co.uk/shop/DM/info/1_463.htm
Made by: Milford Instruments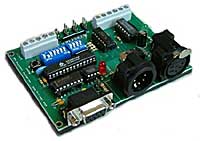 A DMX transceiver board, allowing DMX to/from serial, volts or servos
This unit can control DMX fixtures using serial interface (transmit 112 channels or receive 4)
Test software is included
Supported and tested on Linux with the Open Lighting Architecture.