The Open Lighting Project has moved!
We've launched our new site at
www.openlighting.org
. This wiki will remain and be updated with more technical information.
Robe Universal Interface
From wiki.openlighting.org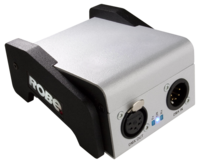 Link: http://www.robe.cz/products/article/robe-universal-interface/
Made by: ROBE lighting







The Robe Universal Interface is a multi-functional tool box with 2 DMX ports and one USB port. This unit communicates with a PC or Laptop via USB. The Robe Universal Interface provides fixture software updates and with additional ROBE RDM-network software provides RDM (Remote Device Management) functionality. It supports RDM - new control protocol featuring AutoPatch and Fixture Status Monitoring. The Robe Universal Interface can be used in combination with Robe Media Fusion software as DMX input from any DMX console.

The software for download is listed on the products page. It uses ftdi usb chip so pretty straight forward drivers. As far as accessing the box - the software is not FOSS but it might be worth checking with the company as it might be released. Maybe.