The Open Lighting Project has moved!
We've launched our new site at
www.openlighting.org
. This wiki will remain and be updated with more technical information.
Difference between revisions of "OLA on Windows with VMWare"
From wiki.openlighting.org
Line 33:
Line 33:
 
 
 

[[Image:Open_terminal.JPG]]

 

[[Image:Open_terminal.JPG]]

 
+
 
+
 
+
---
Revision as of 14:07, 29 January 2011
This explains how to run OLA on a Windows system using VMWare. This uses virtualization so it's not recommended for real time lighting control. However it's useful if you want to experimenting with OLA and doing tasks that aren't time sensitive like Running RDM Responder Tests
Setting up the Linux System
This tutorial is based on these excellent instructions. The instructions are for Windows 7, but works fine on XP as well.
Download & Install VMWare Player
Download the free VMWare Player. You'll need to complete the survey and provide an email address. Install this on your windows machine. Reboot.
Download & Install Linux Distribution
I recommend Ubuntu. It's fairly easy to use and stays up to date. Get the latest version from here. Once this is done you should have an .iso file which will be around 600MB.
Setup a New Virtual Machine
Open VMWare Player, select "Create New Virtual Machine". Choose "Installer Disk Image" and point to the Linux .iso file you downloaded.
On the next screen setup a username & password. You can then control where the VM image is stored and the size of the image. The defaults are fine.
Click Finish to setup the Linux image. Installation of Ubuntu then begins.
You'll be asked if you want to install VMWare tool for Linux. Say yes as we'll use them later. The download will continue along with the install. This stage can take quite a while.
Once complete, you'll be presented with a graphical login screen showing the username that you setup before. Login to the system and you'll be shown the desktop.
Next enter Unity mode. This seamlessly merges the Linux windows with the Windows desktop.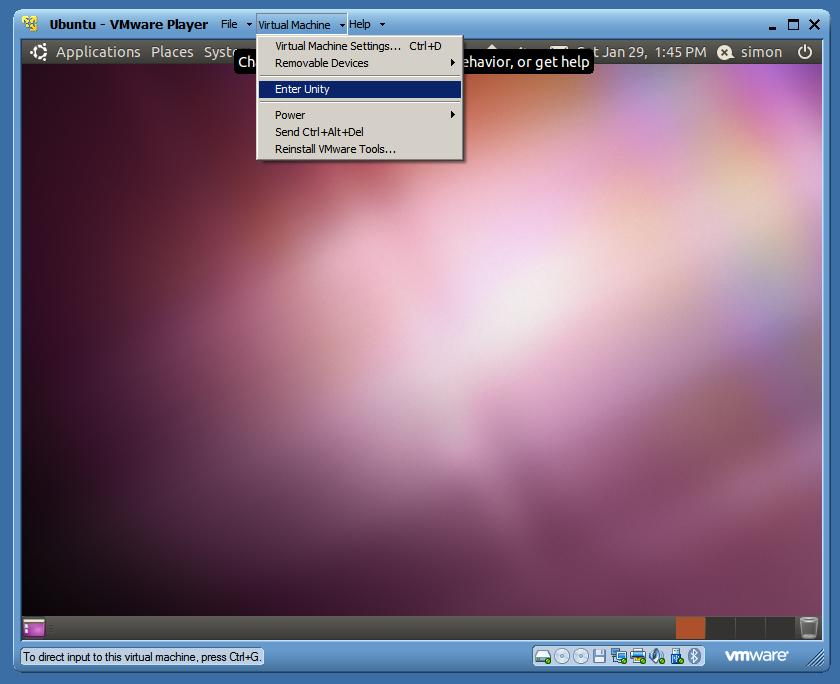 Finally open the Linux terminal application as shown below. You'll need to move your mouse to the Start button for the Unity menu to appear.