The Open Lighting Project has moved!
We've launched our new site at
www.openlighting.org
. This wiki will remain and be updated with more technical information.
Pathport Manager
From wiki.openlighting.org
Link: http://www.pathwayconnect.com/content/view/25/29/
Made by: Pathway Connectivity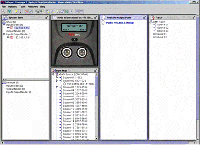 Companion for Pathport, free Pathport Manager software provides easy control and visualization of a Pathport network.
Features
Easy to understand graphical interface
Drag and drop functionality
Powerful DMX routing capabilities
Accesses powerful features of a Pathport System, including:

Input Merge
Priority Switch
Backup Switch
Node Labeling
Port Labeling
Backlight control

Provides connected system overview
Windows, MAC, and Linux versions
Save & Recall system configuration