The Open Lighting Project has moved!
We've launched our new site at
www.openlighting.org
. This wiki will remain and be updated with more technical information.
DMX Workshop
From wiki.openlighting.org
Link: http://www.artisticlicence.com/index.php?mode=products&sub=overview&action=&category_id=4&product_id=351&project_id=&policies_id=&cart_id=&order_id=







Made by: Artistic Licence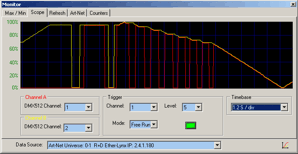 DMX Workshop and ArtNet View from Artistic Licence allow management of devices connected to an ArtNet network. They are primarily used for diagnosing and configuring devices and are very useful for testing ArtNet nodes.
There is a Linux clone of ArtNet View available at http://www.nomis52.net/data/artnet/artnetview/ . It lacks some of the advanced features such as video control.