The Open Lighting Project has moved!
We've launched our new site at
www.openlighting.org
. This wiki will remain and be updated with more technical information.
Chamsys
From wiki.openlighting.org
Link: http://www.chamsys.co.uk/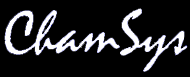 Chamsys was founded in 2003 with the goal of using the latest technology to bring new developments to the lighting console market. The MagicQ series of consoles were released at PLASA in 2004.
Contact Information:
Unit G3 Liners Industrial Estate,
Pitt Road,
Freemantle,
Southampton SO13 3FQ

Tel: +44 (0) 2380 238 666
Products by Chamsys: