The Open Lighting Project has moved!
We've launched our new site at
www.openlighting.org
. This wiki will remain and be updated with more technical information.
SLAMMO XC-1
From wiki.openlighting.org
SLAMMO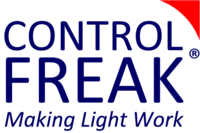 The Control Freak SLAMMO range from Creative Lighting in Australia are a family of constant current, constant voltage, and PWM dimmers that share common RDM code. All SLAMMOs are Multiprotocol™ - they accept DALI or DMX512 or DSI or RDM. Uniquely, the protocol can be remotely selected by RDM. The XC-1 is a range of constant current single output LED dimmers 350mA or 500mA or 600mA or 700mA. The V3.3 are 3 channel constant voltage 7-40VDC PWM dimmers . The V3-P are 3 channel PWM dimmers (5VDC PWM signal).