The Open Lighting Project has moved!
We've launched our new site at
www.openlighting.org
. This wiki will remain and be updated with more technical information.
ESTA
From wiki.openlighting.org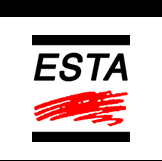 ESTA or The Entertainment Services & Technology Association, is a non-profit North American association which represents professionals in the Entertainment technology industry. ESTA runs various technical standards programs which have resulted in standards such as E1.31.
In October 2009 ESTA and PLASA announced a merger which should occur sometime in 2010.
More Information: http://www.esta.org/